Come Test @ CNA Exam Center!

The Florida Department of Health (DOH) has contracted with Prometric to develop and administer its Certified Nursing Assistant (CNA) Exam. The CNA Exam Center host this exam as a Prometric in-Facility Test Site.
This section describes the procedures for becoming a Florida CNA and to be listed on the CNA Registry. Follow these main steps if you are interested in becoming a CNA in Florida.
To become a certified nursing assistant:
1. Schedule your FREE Class Preview @ CNA Exam Center, and show up on time.
2. Register for the CNA Exam Prep Course @ CNA Exam Center. Practice, practice, practice until you feel ready for the exam.
3. Complete all pages of the Florida Certified Nursing Assistant Application— The application form and other documents will be emailed to you when you opt-in here for that information.
4. Complete the Florida Board of Nursing background screening @ CNA Exam Center. We provide convenient in-house Livescan fingerprinting services, at affordable and competitive prices.
5. Take your CNA exam here @ CNA Exam Center. Be sure to bring the necessary identification with you on the day of the Exam.
6. Once you have passed both parts of the CNA exam and completed all necessary paperwork, the Florida Board of Nursing will send you your certificate and you will be placed on the Florida CNA Registry
*** You CANNOT become employed until the Florida Board of Nursing sends you your certificate and you are placed on the Florida CNA Registry.
*** The information found on this website is limited. Click the button below and we'll send you ALL the information you need for the State board Exam. All instructions, applications, FAQ's, bulletins, announcements, documents that you will or could possible need will be emailed to you.
How do you register for the CNA exam in Florida?
The application for testing can be accessed by visiting the testing agency's website.  In Florida, the testing agency is Prometric and their website can be located at www.Prometric.com/nurseaide/fl.  Under the second heading "Candidate Information", click on the box labeled "Online Application" to complete the "Certified Nursing Assistant Application Form" online.  There is also a link to print a paper application, if you prefer.
***If you are testing at "CNA Exam Center" the process is slightly different. Submit PAPER APPLICATIONS to our front office. DO NOT mail to Prometric.***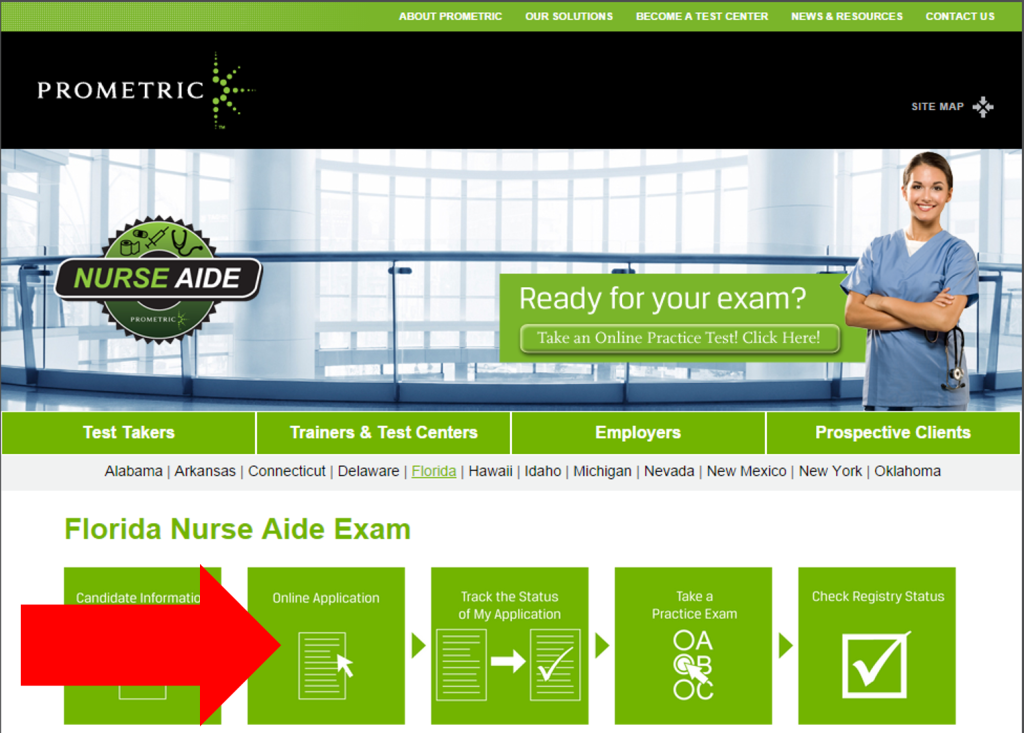 You will need to create an account with your email and a password that you choose (this password will need to meet specific security requirements – please read the instructions carefully).
IF YOU ARE A CHALLENGER: (if you have not completed a 120 hour CNA course)
This option should only be used by those that desire to test in Florida and that have NOT attended a state-approved CNA school or are currently enrolled in RN or LPN training. Please ensure you are selecting the appropriate route for testing. All candidates, regardless of training, will take the same CNA exam.
Go to www.Prometric.com/nurseaide/fl to apply online or print the state application and view the step by step instructions on completing and submitting the application. This should be done as soon as possible as the process takes about 2 – 4 weeks to complete.
Section 1: Candidate Information.
Fill in Section 1 with your personal information, including your social security number on the first line. Make sure your name on the application matches the photo ID and secondary signed ID (like social security card) you will be using EXACTLY! Ensure your address is entered correctly, because this is where your certification will be sent after you complete the test.
Section 1 End: Candidate Attestation
Check the "Yes" box that you have received and read the attached documents regarding the clearinghouse.
Section 2: Certification Option/Eligibility
Check E3 – Challenger. If you check off any other option, it will delay processing of your application.
Section 3: Training Information.
Leave Blank or cross out (paper application). You will not enter training center information on this form.
Section 4: Disciplinary History.
Read and answer each question accordingly.
Section 5: Criminal History.
Read and answer accordingly. Good rule of thumb: if you have any criminal history, you need to check "Yes" here.
Section 6: Additional Criminal History Questions.
Answer the additional criminal history questions on page 2 and 3.  Please pay close attention.  You will only answer the questions labeled "a", "b", "c" or "d" if you answer "YES" to any of the NUMBERED questions in this section. If you have NO felonies, you will answer "NO" to all questions in this section. If you do have a felony, you will need to know the statute number of the violation and how long ago the violation occurred to answer these questions.
Section 7: Test Site Information.
Check "Regional Testing Center" and select your closest testing center from the drop-down box (if using a paper application, go to www.Prometric.com/nurseaide/fl for a current list of testing centers write the site code for the testing center closest to you in the box provided). DO NOT CHECK "TESTING AT YOUR FACILITY" BOX.
Section 8: Testing/Retesting Fees and Payment
Exam:
 Check the first option if you are testing for the first time.
 If you need other accommodations, such as having the test read to you by the computer or taking the test in Spanish, please make the appropriate selection.
 Write the amount in the space marked "total" next to your selection.
 Write total in the space provided at the bottom of the column. Testing fee will be $140.00 if this is your first testing attempt
Sign and date application.
Enter your credit or debit card information in the space provided. PAYMENT MUST ACCOMPANY APPLICATION! (if using paper application and paying by money order, enclose money order with registration form. DO NOT SEND CASH OR PERSONAL CHECKS.)
If using paper registration form, submit form WITH PAYMENT ($140 for first-time testers) to:
Prometric
FL Nurse Aide
7941 Corporate Dr.
Nottingham MD 21236
Phone: 888.277.3500
CONTACT US
DEPARTMENT: CNA Exam Center
SCHOOL: Gabriel Health Institute
Orlando Office
6851 West Colonial Drive
Orlando, FL 32818
PHONE
(407) 777 – 9778
EMAIL
info@gabrielhealth.org
REVIEWS
Anna Ban Ana
5 star — ★★★★★
12 hours ago
This school is great, the course is very affordable and the staff is friendly and informative. You get hands on experience and a lot of practice time.
See More Reviews